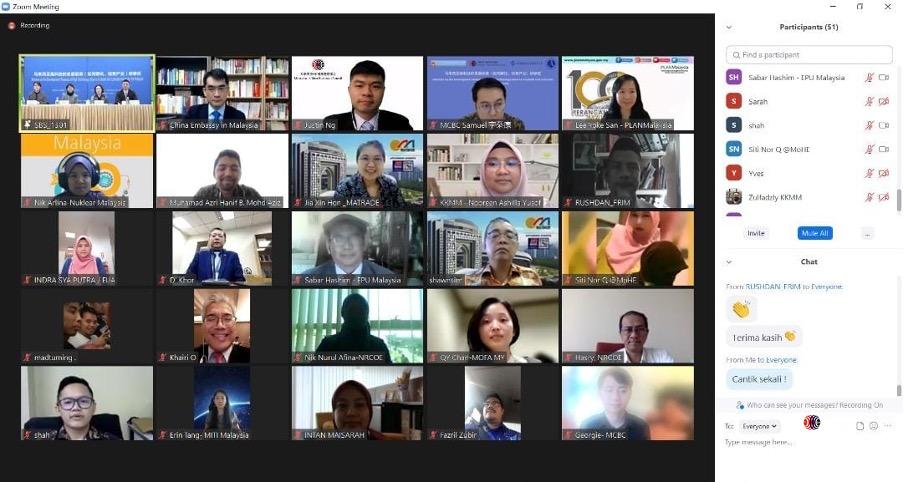 Malaysia-China Business Council, the Embassy of the People's Republic of China in Malaysia, Shanghai Business School and the International Business Officials Training Base of the Ministry of Commerce of the People's Republic of China (Shanghai) jointly organized a seminar on "Prospects of High-Tech Development in Malaysia (How to incubate and cultivate industries) for Malaysia", which was sponsored by the Ministry of Commerce of the People's Republic of China. The opening ceremony of the event was held via online on 9 September 2021.
The opening ceremony was attended by Mr. Samuel Lee, Chief Executive Officer of the Malaysia-China Business Council, Mr. Yu Jun, Political Counsellor of the Chinese Embassy in Malaysia, Ms. Liu Beimin, Researcher of Foreign Economic Cooperation Department of Shanghai Municipal Commission of Commerce, Ms. He Ying, Vice President of Shanghai Business School, and Ms. Huang Lihong, Deputy Director of Shanghai Technology Innovation Center. In addition, Assistant Director General Lim Kai Hau from the Legal Affairs Division of the Prime Minister's Department of Malaysia also delivered a speech on behalf of the participants, expressing his expectation and learning direction for the seminar.
Moreover, the seminar will be conducted via online method, which will proceed to run from 9th to 22nd December 2021, has successfully attracted more than 50 government officials from various ministries, including the Ministry of Science, Technology and Innovation, the Ministry of International Trade and Industry, and the Ministry of Higher Education of Malaysia, to discuss the topics of high-tech development in Malaysia, paving the road for brighter outlook of science and technology collaboration between Malaysia and China.