The China-Malaysia Qinzhou Industrial Park (CMQIP)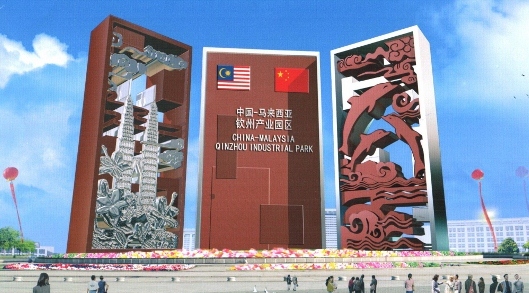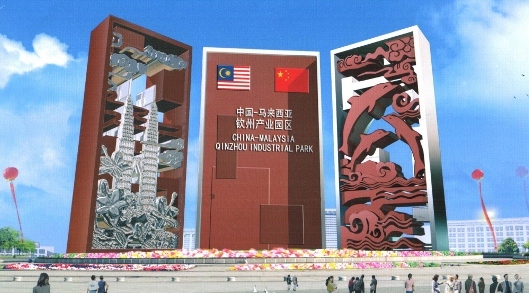 The China-Malaysia Qinzhou Industrial Park (CMQIP) is an aspiring endeavour by the Chinese and Malaysian enterprises to deepen the bilateral economic and trade ties with the support and guidance of both governments. It is the third industrial park collaboration between China and its partner countries.
The project of CMQIP was proposed by the Chinese Premier Wen Jiabao as he attended the Malaysia-China Economic, Trade and Investment Cooperation Forum in 28 April 2011,  which Malaysian Prime Minister Dato' Sri Najib Tun Razak expressed his support in as well.
During the 8th China-ASEAN Expo, Chinese Premier Wen Jiabao and Malaysian Prime Minister Dato' Sri Najib Tun Razak witnessed the signing of a Memorandum of Understanding (MOU) to cooperatively develop the proposed CMQIP and unveiled the project on 21st October 2011.
The park mainly focuses on the development of biomedicine, information technology, equipment manufacturing, renewable energy, new sustainable materials, the modern service industry, and traditional ASEAN competitive industries. Furthermore, the park is committed to building a high-end industrial cluster, industry-city integration demonstration zone, scientific education and talents cluster zone, and international cooperation and free trade pilot zone.
The realisation of CMQIP shall deepen the economic and trade exchanges and cooperation of enterprises from both China and Malaysia and strengthen the economic and trade tie of both countries as well.
The site of CMQIP is situated close to the national-level Qinzhou Port economic and technological development zone, 10 km to the city's urban area and 5 km to the Guangxi Qinzhou Free Trade Port Area, where the port for importing finished vehicles is located. Therefore, easy access to the urban area and port is favourable for CMQIP's future development.
The CMQIP  project benefits from an outstanding industrial centre which hosts numerous industrial projects around its vicinity. To name a few, the petrochemical industry represented by PetroChina, a 10-million-ton oil refinery project, the grain & oil industry represented by COFCO, a 1.8-million-ton oil processing project, the 300,000-ton vanadium-titanium-magnetite comprehensive utilisation project invested by Hong Kong Ruifeng Group, the bonded logistics business in the Free Trade Port Area, the auto equipment manufacturing industry based on the port for finished car import and also an electronics manufacturing and a pulp-paper making facility. Thus CMQIP has a high synergy with the neighbouring industries and companies to boost a balanced and common development.
Qinzhou is the starting point of the ancient China's Marine Silk Road, South China's second-largest harbour, planned by Dr. Sun Yat-sen in his book, "Plans for National Reconstruction". It is also the home to the trunk-line container port in Beibu Gulf and is poised to be a regional hub for international logistics geared towards China-ASEAN cooperation.
Qinzhou is 1,549 nautical miles to Port Klang, 800 nautical miles to Ho Chi Minh Port of Vietnam, 836 nautical miles to Manila Port of the Philippines, 1,338 nautical miles to Singapore Port and 1,720 nautical miles to Jakarta Port of Indonesia.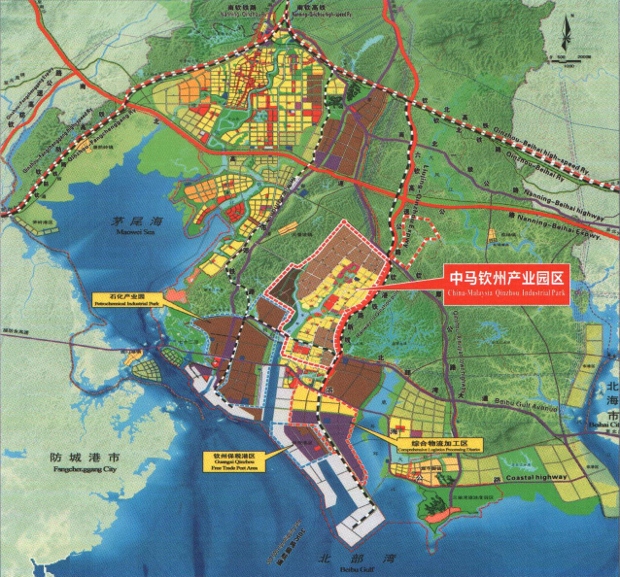 Functional Zoning Segmentation
CMQIP has a total planned area of 55 sq km and an estimated population of 500,000 people. Five functional districts are planned for QIP, i.e. industrial district, residential district, auxiliary service district, production centre & living centre and scientific & technological service district.
CMQIP is to be developed in three phases; Phase 1 refers to the 15.11 sq km comprehensive district in its southeast, designed for living apartments, industries, businesses and office buildings. This phase includes the 7.87 sq km start-up district, which started on 1st August 2011. Phase 2 refers to the living service centre and industrial and residential districts, totalling 18.1 sq km. Finally, phase 3 covers the ecological district and industrial district in the north, with a total area of 22.2 sq km.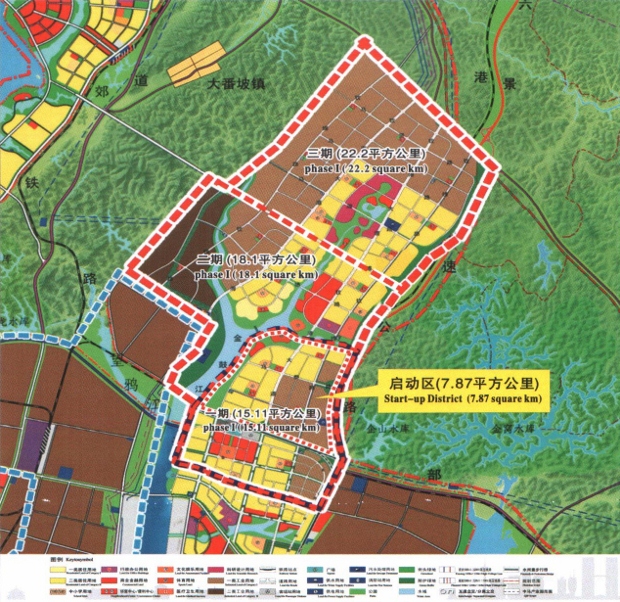 Development Target & Industrial Positioning
CMQIP is targeted to be the model industrial park for China-Malaysia win-win cooperation and is designed to be:
Innovative Manufacturing Centre – An Extension of the Beibu Gulf Industrial Chain
With its favourable location and access to ASEAN countries, CMQIP is poised to extend the established industrial chain and develop advanced manufacturing industries.
Intelligent Information Corridor – A Pioneering Global Competitive R&D Park
By learning from the successful experience of Malaysia's MSC plan, CMQIP will focus on electronic information, related industries and enterprises-university cooperation.
Modern City of Culture – A Landscape City Featuring the Charms of Southeast Asia
CMQIP will organically incorporate the surrounding natural mountains and water ecosystems (Jingu River) with the industrial park to create a green ecological space featuring the beauties of nature with the captivating Southeast Asian allures into its urban landscape.  
Window for Cooperation & Exchange – A Link to the World with Close Proximity to ASEAN
With its advantageous location positioned close to ASEAN to leverage high-level cooperation between the two governments, CMQIP is poised to become the collaborative window for information sharing, trade exchange, and business cooperation serving the China-ASEAN Free Trade Area.
For information about Qinzhou, please log on to http://www.qinzhou.gov.cn/