Malaysia-China Kuantan Industrial Park (MCKIP)
In April 2011, Premier Wen Jiabao of the State Council of the People's Republic of China proposed the CMQIP project as he attended the Malaysia-China Economic, Trade and Investment Cooperation Forum where Dato Sri Najib Tun Razak, the then-Prime Minister of Malaysia, expressed his full support on it as well. 
In April 2012, both governments decided to collaborate and set up a sister park to CMQIP, which is now located at the East Coast Economic Region in Malaysia, named as Malaysia-China Kuantan Industrial Park. 
On 5th February 2013, the leaders of Malaysia and China witnessed the opening of the MCKIP project. 
Since then, the Malaysia-China Kuantan Industrial Park was personally promoted by the two leaders and jointly built by the two governments. MCKIP, along with the China-Malaysia Qinzhou Industrial Park, are the first sister parks in different countries, creating a new model of International cooperation of "Two Countries, Twin Parks".
Malaysia-China Kuantan Industrial Park (MCKIP) is also the first National Industrial Park in Malaysia. It is located at Gebeng Industrial Area, Kuantan, which is the Capital of Pahang. It covers an area of 3500 acres(around 14.2 sq km), and is 5km away from Kuantan Port, 25km away from Kuantan town area, 40km away from Kuantan Airport and 250km away from Kuala Lumpur. The industrial park has a strategic location and has convenient transportations. The distance between Kuantan Port and Qinzhou Port is 1104 nautical miles away and only takes around 3 – 4 days to reach; whereas it takes around 4 – 8 days to reach other ports in China departing from the Kuantan Port.
Industrial Park Development Plan
MCKIP has a planned area of 14.2 sq km and is constructed in three phases. Phase 1, 2 and 3 respectively covers an area of 4.8 sq km, 4 sq km and 5.2 sq km. The functional zoning of the park includes commercial area, logistics area and supporting areas (residential area, public engineering island, integrated service centre and educational area).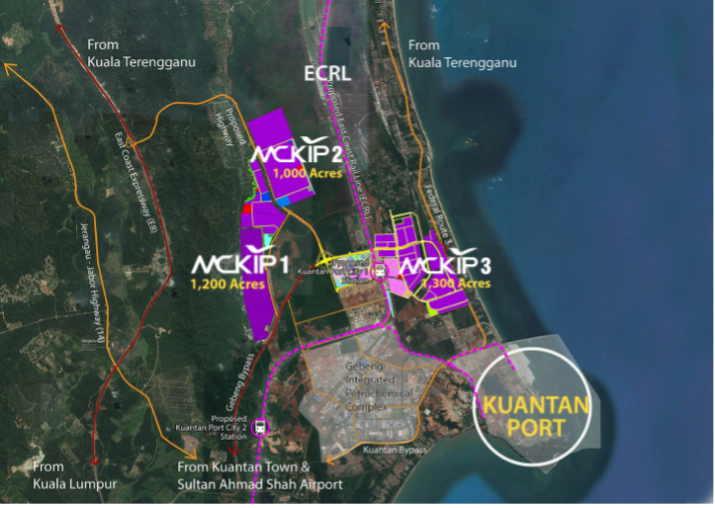 The leading enterprises of China and Malaysia established a joint venture in Malaysia as the main body of the industrial park development, with Malaysia holding 51% of the shares and China holding 49% of the shares. Hand in hand, both sides jointly engaged in the land development and infrastructure construction, later in the investment promotion. 
The 10 key industries include: Plastics and Metal Industry Equipment, Auto Parts, Fibre Cement Boards, Stainless Stell Products, Food Processing, Carbon Fibre, Electronics and Electrical Appliances, Information Communications, Consumer Goods and Renewable Energy. 
Alliance Steel (M) Sdn. Bhd.
The Alliance Steel (M) Sdn. Bhd., signed under the witness of Prime Minister Dato Sri Najib Tun Razak and China's President Xi Jinping, was the first project to enter MCKIP. With an annual production capacity of 3.5 million tons, this project plays a key role in kickstarting the MCKIP. The project is jointly invested and constructed by the Guangxi Beibu Gulf International Port Group and Guangxi Shenglong Metallurgical Co. Ltd, with a planned investment of about 1.4 billion US dollars. Once operated, it can directly create 3500 jobs and indirectly drive tens of thousands of jobs. The project adopts the most advanced production technology, equipment and process in the world, and also adopts advanced energy-saving and environmental protection technologies in the design, such as waste heat recovery and SDA circulating fluidized bed desulfurization. The project has reached the world leading level in production technology and energy-saving.
Maxtrek Tyre Manufacturing Malaysia Sdn. Bhd.
Maxtrek Tyre Manufacturing Malaysia Sdn. Bhd. held a ground-breaking ceremony on 18th June 2019. Maxtrek invested hundreds of millions of ringgits to set up a factory on more than 300 acres of land in the MCKIP Phase 2. It is expected to create hundreds of jobs and it will produce 6 million car & light truck tyres and 500,000 truck/bus tyres a year. This project adopts the Industry 4.0 intelligent manufacturing system and internationally advanced green energy-saving and environmental protection technologies. The products are mainly sold to countries and regions such as Europe, America and South America.