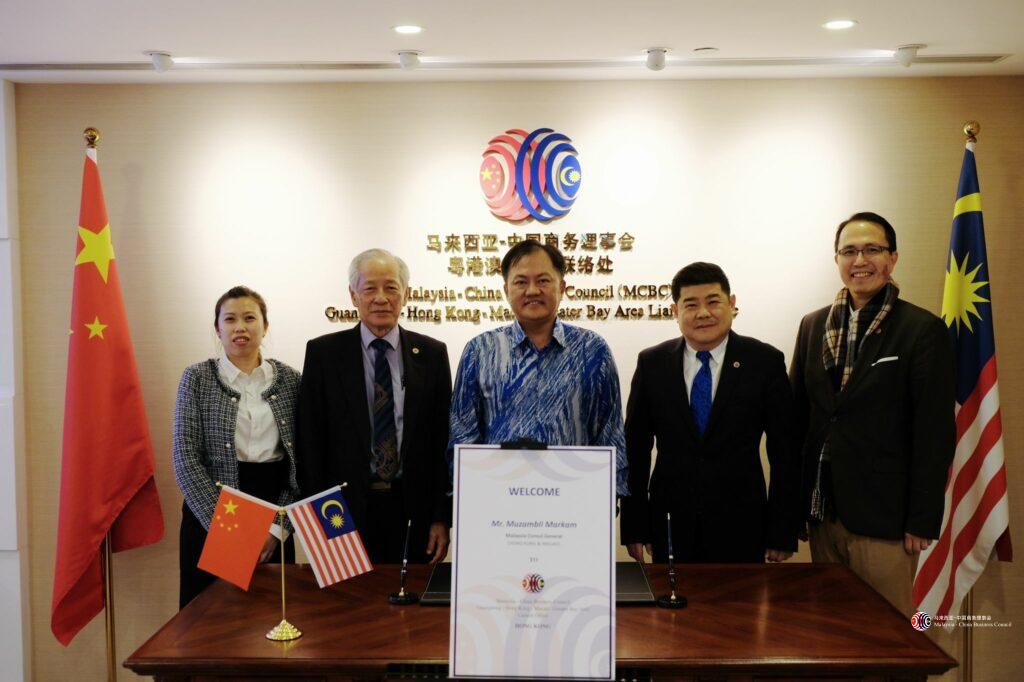 On the afternoon of 8th of December 2022, MCBC representatives from Kuala Lumpur & Hong Kong held a special session with the Consulate General delegation of CG Malaysia, Hong Kong, at the MCBC Guangdong-Hong Kong-Macau-Greater Bay Area (GBA) Liaison Office.
MCBC were represented by Dato' Ir Fong Tian Yong, Ms Carolyn Tan, Mr Steven Loke, and Mr Henry Hooi. The Consulate General of Malaysia, Hong Kong was represented by CG Muzambli bin Markam, Trade Commissioner Yazrin Syakhairi, and Director of MOTAC, Ms Tan Mei Leng.
Mr Steven KK Loke, Chief Representative of MCBC GBA, welcomed the CG Muzambli and his delegation, and expressed his enthusiasm to work closely with the CG to facilitate planned programmes and activities by MCBC Kuala Lumpur.
Dato' Fong shared on the establishment of MCBC and plan of expanding its programmes and activities into GBA through the MCBC GBA Liaison Office to increase MCBC's visibility to the public and commercial sector in the region. Under the leadership of YB Dato Sri Tiong King Sing, Chairman of MCBC, had set up 14 committees covering wide range of economic activities such as Business Development, Trade, Tourism, 4IR & Digital Economy, construction etc. Many promotion and engagement sessions can be explored between entrepreneurs from both Malaysian and Chinese sides.
CG Muzambli conveyed his congratulatory note to YB Dato Sri Tiong King Sing for being appointed as the Minister of Tourism, Arts, and Culture Malaysia. He expressed the need for Malaysian government to increase flight to Hong Kong; however, Hong Kong airport has capacity issues due to the workforce shortage which was disrupted due to COVID-19 pandemic. He stated that Malaysia and China will be celebrating their 50th Anniversary of the establishment of Diplomatic relations in 2024, which Hong Kong side would expect be expected to have complementary programmes for this celebration. CG Muzambli is looking forward to YB Dato Sri Tiong to the official launching of the MCBC Hong Kong Liaison Office, and wished that MCBC could capitalise on Hong Kong's financial and commercial strategic position for greater collaboration between Malaysia and GBA.