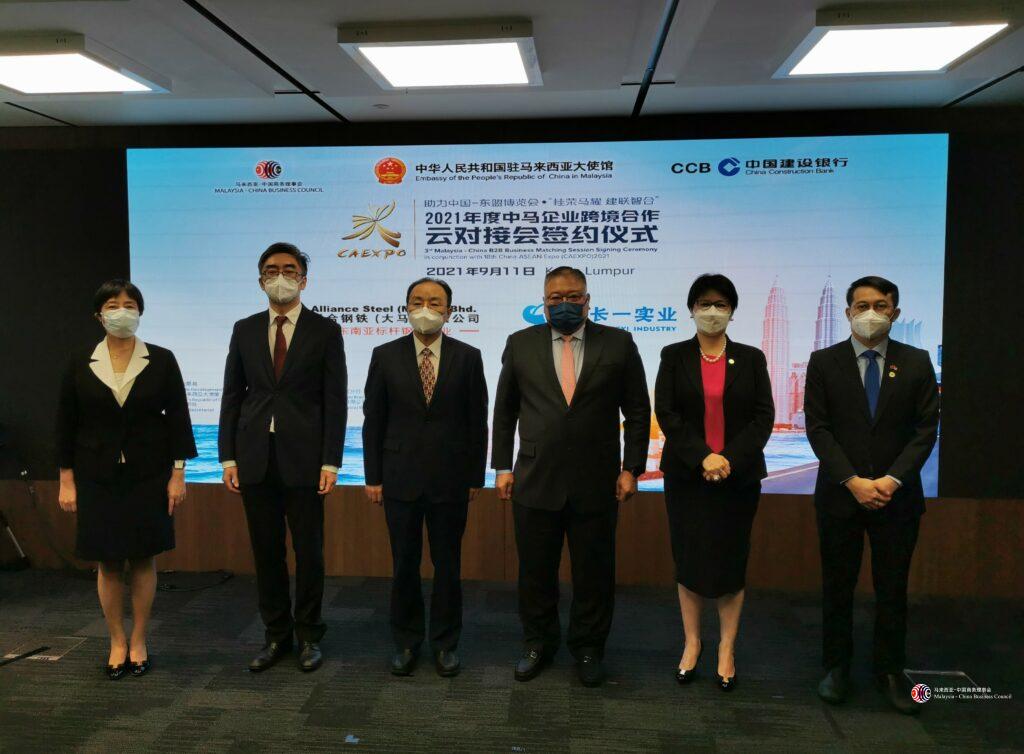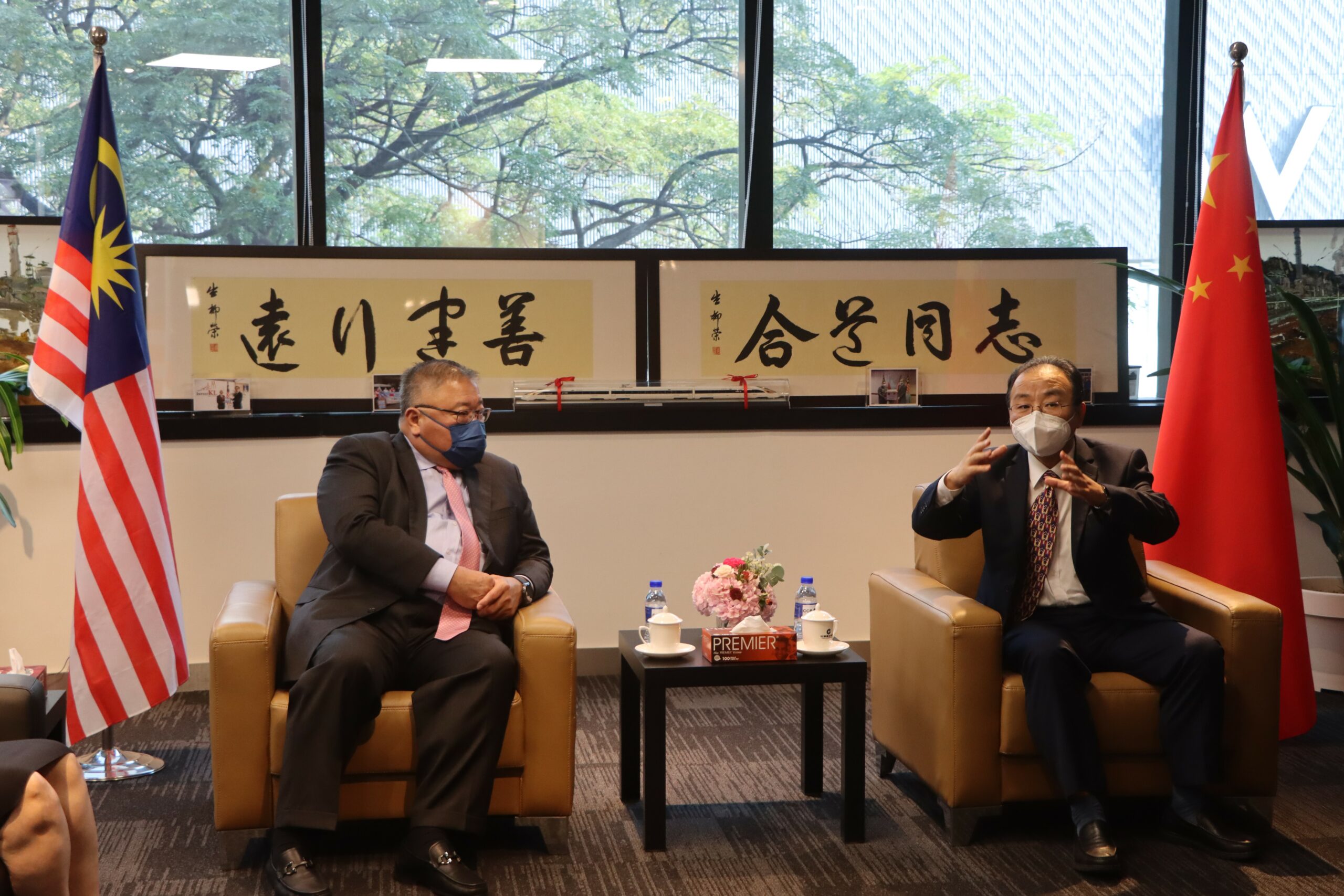 3rd Malaysia-China B2B Business Matching Session Signing Ceremony in conjunction with 18th China-ASEAN Expo (CAEXPO) 2021.
Jointly organised by the Embassy of the People's Republic of China in Malaysia, China Construction Bank, Malaysia External Trade Development Corporation and China-ASEAN Expo
11 September 2021
Prime Minister's Special Envoy to the People's Republic of China
cum Chairman of Malaysia-China Business Council
YB Dato Sri Tiong King Sing, J.P.
First of all, I would like to thank the organiser for attending and participating in today's 3rd Malaysia-China B2B Business Matching Session Signing Ceremony in conjunction with the 18th China-ASEAN Expo (CAEXPO) 2021.
Malaysia is the first ASEAN country to establish diplomatic relations with China. Both countries have been working closely together to support and cooperate in various fields. In the 47 years of diplomatic relations, we have been working together to implement mutual political understanding and win-win cooperation, which has created not only a great friendship but also investment and trade cooperation in various areas. As a result, bilateral relations have also attained another peak.
As the third China-Malaysia business exchange forum jointly organised by China Construction Bank (CCB) and the Malaysian and Chinese governments during the 18th China-ASEAN Expo (CAEXPO) and the 18th China-ASEAN Business and Investment Summit (CABIS), relying on CCB's "Smart Matchmaking Platform", more than 200 Chinese and Malaysian enterprises from various industries, including industrial, electronics, manufacturing, trade, foods, healthcare, daily necessities and services, have conducted over hundreds of online matchmaking sessions via virtual conferencing, which achieved excellent responses and results.
While the global economy has been facing tremendous challenges amid the pandemic, Malaysia-China bilateral trade has continued to thrive, achieving a new record of RM329.8 billion in trade flow. China has been Malaysia's largest trading partner for 12 consecutive years, while Malaysia is China's ninth-largest trading partner, a remarkable manifestation of the excellent bilateral partnership between Malaysia and China.
Moreover, the investment and trade partnership between Malaysia and China is set to enter a more robust phase after both countries sign the Regional Comprehensive Economic Partnership Agreement (RCEP). The Malaysian Ministry of International Trade and Industry (MITI) is currently completing the contract for the agreement expeditiously. By then, once the RCEP is formally in place, the bilateral trade turnover between Malaysia and China will reach another milestone!
The 3rd Malaysia-China B2B Business Matching Session Signing Ceremony mainly concerns the industrial manufacturing, automobile manufacturing, and the solar and clean energy sectors. The manufacturing sector has always played a crucial role in the economic growth of both Malaysia and China, and 2020, it accounted for 86% of Malaysia's total exports to China and 94% of China's total imports to Malaysia. In 2018, the Malaysian government launched the National Policy on Industry 4.0 (Industry4wrd), which aims to create a comprehensive Industry 4.0 ecosystem to transform the overall manufacturing sector.
In addition, Malaysia has several highly developed industrial parks such as the Hi-Tech Park, the Export Industry Free Trade Zone and the Malaysian Multimedia Super Corridor. Among them, the "Two Countries, Twin Park" of the Malaysia-China Kuantan Industrial Park and the China-Malaysia Qinzhou Industrial Park are also iconic projects between Malaysia and China at the national level. I hope that all sectors will seize the investment opportunities in these industrial parks, the tax incentives under the National Policy on Industry 4.0 and the tax incentives for the commercialisation of R&D findings.
I am also pleased with today's signing ceremony, which covered the signing of the solar and clean energy projects. Energy collaboration is one of the key areas of the Belt and Road Initiative, launched in April 2019 in Beijing by China and 29 other countries; now, Malaysia has been invited to join the partnership. We look forward to working with every member country in the coming years to build a closer partnership for green development and strengthen collaboration in areas such as green infrastructure, green energy and green finance.
China Construction Bank has implemented the national "Dual-Circulation New Development Pattern" to practise the new financial development mission in a new era, to promote green, low-carbon, technological and inclusive cross-border collocation with the advantages of green finance and technology finance, to gather new momentum for sustainable development in both Malaysia and China, and to promote the building of a human destiny community. In addition, Proton Malaysia, Alliance Steel, Hengyuan Refinery and SPIC Malaysia and other well-known enterprises have signed several investment and trade agreements on new technology vehicles, 'Green Steel', clean energy, healthcare and traditional Chinese medicine against the pandemic.
In future, energy-efficient and environmentally friendly technologies will be key to cooperation between Malaysia and China. The development of the green manufacturing industry and clean energy has become the trend of Industry 4.0. Therefore, the Malaysian government is actively promoting electric vehicle manufacturing and new energy transformation projects. In addition, the Malaysian government is extending the investment tax allowance for green technology assets and the green income tax for the use of green technology services until 2023. Companies engaged in solar leasing will also benefit from income tax exemptions to encourage them to actively engage in the energy-efficient and environmentally friendly new energy sector.
In the upcoming period, I look forward to the arrival of more of China's top 100 companies, such as the four major automobile groups, green energy companies, steel giants and so on, to set up factories in Malaysia. The Malaysia-China Business Council will strive to create a favourable investment environment, with a full range of hardware and software, smooth procedures, excellent technology transmission and so on, to assist the relevant enterprises to operate smoothly in Malaysia as well as expand their economic footprint.
Lastly, I would like to congratulate once again the success of the 3rd Malaysia-China B2B Business Matching Session Signing Ceremony, which has resulted in the successful completion of 11 investment and trade agreements amounting to US$1.286 billion and 17 cross-border cooperation intentions with a total amount of US$101 million through one-to-one negotiations on site.
May I wish you all good health and all the best. Thank you all!