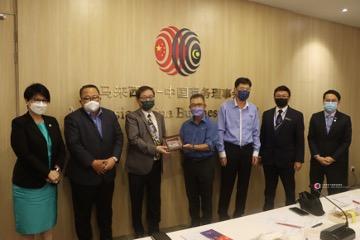 Malaysia-China Business Council (MCBC) hosted the event with the Sabah Ministry of Industrial Development and Palm Oil Industrial Cluster (POIC) meeting with the enterprises from the China Enterprises Chamber of Commerce in Malaysia (CECCM).
The following sessions included introduction and presentation by the Secretary-General of CECCM, Mr. Zhou Jiayi, the Chief Executive Officer of POIC, Datuk Fredian Gan and the Chief Executive Officer of Invest Sabah Berhad, Datuk Madiyem Layapan. A dialogue session with the Sabah Deputy Chief Minister cum Industrial Development Minister, Datuk Dr. Joachim Gunsal was conducted for a Q&A session for the CECCM members to understand more about the investment opportunities in Sabah and POIC.
Following the dialogue session, a more comprehensive briefing session on investment opportunities in POIC was held for CECCM enterprises who look forward to work with POIC. The meeting ended with all parties expressing their interest in maintaining close communication to discuss further on Chinese enterprises to expand their investments to East Malaysia in the future.
Also present at the meeting were the Executive Director of MCBC, Datuk Yong Teck Shing, Senior Director of MCBC, Dato Dr Jennifer Low,    Chief Executive Officer of MCBC, Mr. Samuel Lee, the President of CECCM, Mr. Zhang Min, the officials from the Ministry of Industrial Development, POIC and Invest Sabah Berhad.