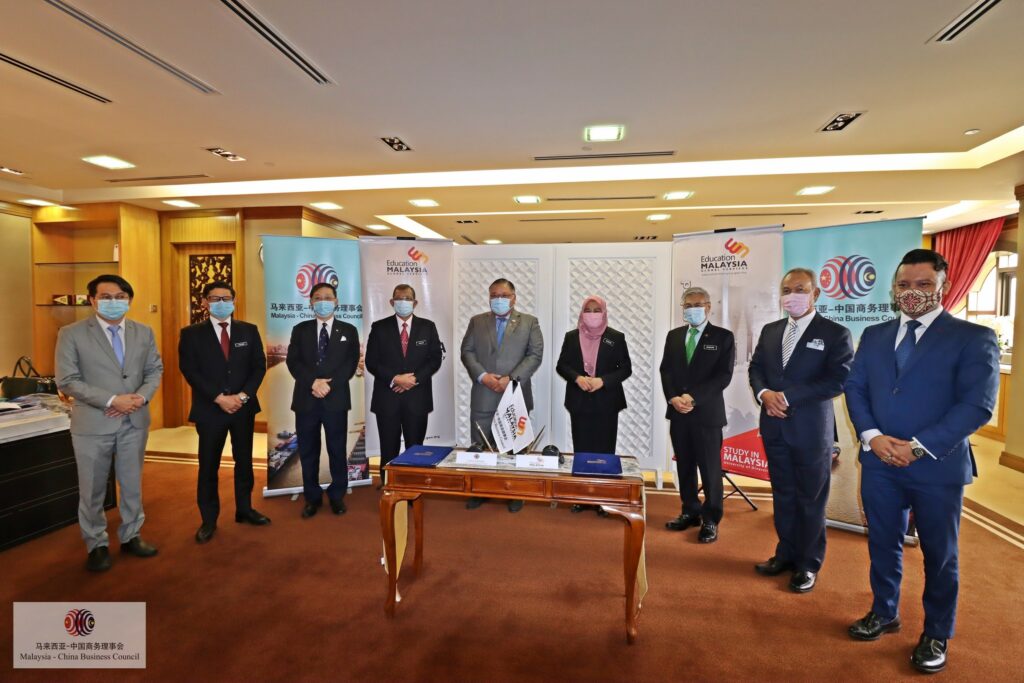 Malaysia-China Business Council (MCBC) has formally signed a Memorandum of Understanding (MoU) with Education Global Malaysia Services (EMGS) at the Ministry of Higher Education office in Putrajaya.
With the completion of this signing ceremony, MCBC will become a strategic partner of EMGS for the promotion and marketing of Malaysia as an international higher education hub for potential students from the territories of China, Hong Kong and Macau. The objective of this collaboration is to enhance the marketing efforts of both parties to promote and encourage more Chinese students to pursue their higher education in Malaysia.
The MoU was signed by both Chief Executive Officer of MCBC and EMGS, Mr. Samuel Lee and Mr. Mohd Radzlan bin Jalaludin and witnessed by the Minister of Higher Education, YB Datuk Seri Dr. Noraini Ahmad and the Prime Minister's Special Envoy to the People's Republic of China cum Chairman of MCBC, YB Dato Sri Tiong King Sing.
Among the other guests of honour who attended the signing ceremony were the Deputy Minister of Higher Education, YB Dato' Mansor Haji Othman, the Executive Director of MCBC, YBhg. Datuk Yong Teck Shing and the senior management of Ministry of Higher Education, EMGS and MCBC.
This milestone event will pivot Malaysia as the preferred educational destination for international students as well as symbol of strong collaboration between the two organizations for the benefit of both nations.