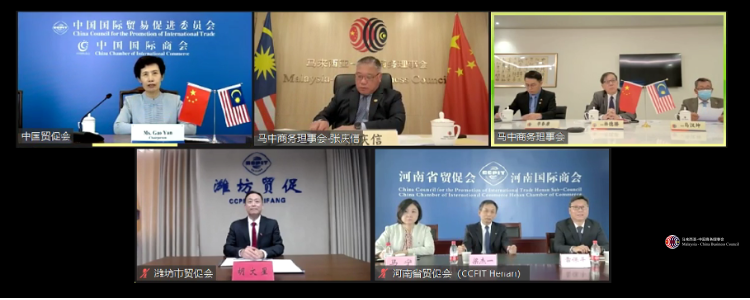 Malaysia-China Business Council (MCBC) held a meeting with China Council for the Promotion of International Trade (CCPIT) via video conference. The virtual meeting was primarily to discuss the preparation of the Joint Annual Meeting and promote development between the two parties.
The Chairman of CCPIT, Gao Yan informed that CCPIT is strengthening the cross-border e-commerce policy interpretation, resources connectivity, business training and information services. It is hoped that through a series of measures, the Malaysian and Chinese companies will be able to release the vitality and potential of the development of the digital economy.
In order to achieve a high level of compatibility between Malaysia and China in the digital economy, CCPIT is willing to provide consulting services to Malaysian companies on various commercial laws and policies in the field of e-commerce in China.
The Prime Minister's Special Envoy to the People's Republic of China cum Chairman of MCBC, Dato Sri Tiong King Sing mentioned that due to the increase volume in Malaysia's exports to China, the trade volume between both countries have exceeded 100 billion US dollars. Therefore, both countries should consider facilitating the "Two Countries, One Inspection" as soon as possible, collaborate to simplify the inspection and customs clearance process.
Dato Sri Tiong hopes that through close cooperation with CCPIT, relevant departments of the two governments will put forward suggestions on how to simplify these complicated approval policies in order to respond the highly concerns of Malaysian companies.
The video conference was also accompanied by MCBC representatives, the Executive Director of MCBC, Datuk Yong Teck Shing, the Director of MCBC, Dato' Beh Hang Kong and the Chief Executive Officer of MCBC, Mr. Samuel Lee.